Coronavirus support for communities
 New 'Tier 2' restrictions
As of Saturday 17th October, London, including Greenwich, has now moved to Tier 2 of the Government's new restrictions. There are 3 tiers, or levels, to the Government's new plan – tier 1 (medium risk), tier 2 (high risk), and tier 3 (very high risk).
With Greenwich now in tier 2, this means that to keep everybody as safe as possible, we can no longer meet people from other households indoors, whether that is at home or in a pub or restaurant. The rule of six still applies when meeting people outdoors.  
As well as following the new tier 2 guidelines, there are 3 simple actions we must all do to keep protecting each other:
Hands – keep washing your hands regularly
Face – wear a face covering in enclosed spaces
Space – stay at least 2 metres apart (or 1 metre with a face covering or other precautions).
Getting tested for Coronavirus
If you have coronavirus symptoms: (a high temperature, a new, continuous cough, a loss of, or change to, your sense of smell or taste), even if they're only mild, it's important to get a test and stay at home until you get your result.
In Greenwich, there are several sites where testing is available.
 Testing centres in the Royal Borough of Greenwich:
02 North Greenwich, SE10 – drive-through facility only 

Charlton Athletic Football Club, SE7 – mobile testing facility accessible by car

NEW

-University of Greenwich, Avery Hill Road, SE9 – accessible on foot only
Booking is essential for all testing centres. Order a home test kit if you cannot get to a test site. All testing sites require you to book online. Please go to gov.uk/get-coronavirus-test.  If you have problems using the online service, call: 119.  Lines are open 7am to 11pm.
Testing is NOT available at the Emergency Department at the hospital or at your GP practice, so please do not attend here trying to get a test.
Support if you test positive and have to self-isolate
 If your test result is positive, you and your household will need to stay at home and self-isolate for 14 days. This is important to stop the virus spreading and to keep your community safe.
This can be stressful and worrying when you need to go to work. If you are unable to claim sick-pay from your employer and are a low income household, a one-off £500 payment may be available from the Government to support you and your family during these 14 days. Find out if you are eligible to apply for this payment.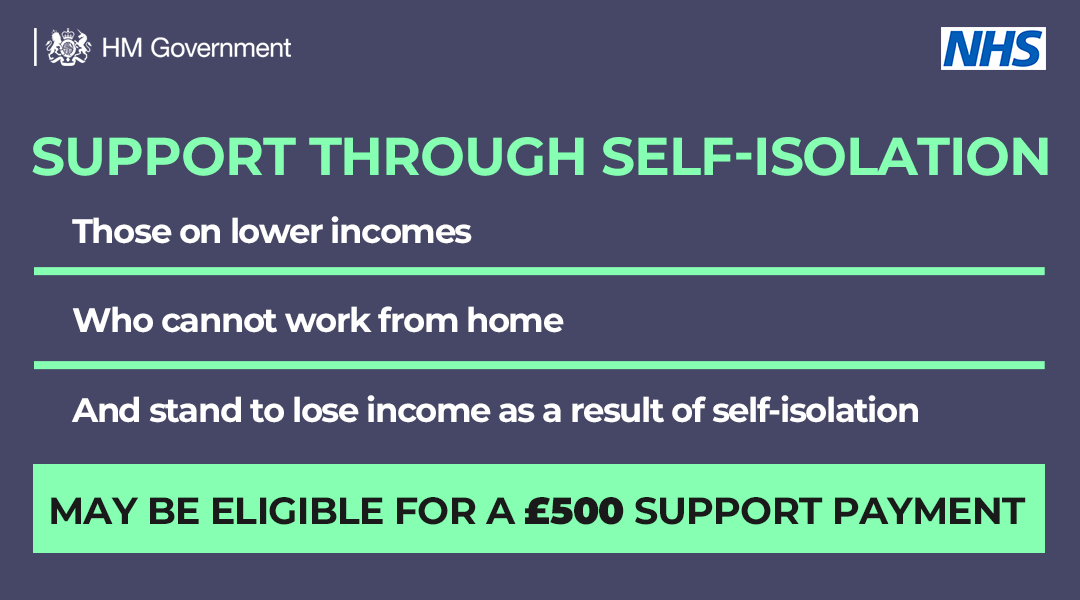 Getting support
This is a difficult and worrying time for us all, and it's normal to feel anxious and low. People may also now be more isolated than before, but there is still lots of support available, whether it's financial, physical or emotional, and it's okay to ask for this support. Click here for more information, advice and support
Helping you Live Well in Greenwich